Ok, so you may be wondering why this image is on my blog.
I took this picture of Bambi and Company in my garden after not finding enough to eat.  And so they moved on….
I took this as a sign that I must too move ahead and think of warmer days to help me accept the inevitable – ITS WINTER!!
That's right —  cold, snow, sleet, grey skies will loom ahead for the next two months.
So whats a girl to do?  
Over the years I have developed a thick winter skin from growing up-in snow country-on a hill that is on a hill-in a house that is built into a hill.
thats a lot of hills…
I have mastered the art of navigating a car by flooring it to get into the garage (especially if the snowplow guy is late, as usual) and learning the correct way to hold a shovel so my back survives into old age.
I have come to realize, however, that there are some things to do daily that can help soften the harsh days Jack Frost.
Here is my list of my favorite things (cue Julie Andrews from Sound of Music)-
Light a scented candle.  Pick a fresh scent — vanilla, citrus, or floral.  No evergreen or leftover Holiday scents — remember, we are scenting ahead.
Set a ritual for daily tea at four o'clock.   Reward yourself with a cup of exotic tea and fruit and cheese.  Before you know it your inner clock will beckon you toward the kettle daily.  You may even get inspired to make scones or at least crack open that box of corn bread-much easier.  I buy blueberries to put in them as you can never have enough antioxidants.
For warmth and light, arrange furniture to take advantage of fireplaces and windows.  I also add the ever so trendy faux fur throws to my sofa.  It adds a layer and chic look at the same  time.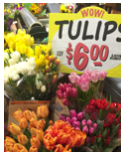 When budget (whats that)? allows, spring for some fresh flowers at the store.  Tulips are my favorites —  they are long lasting, inexpensive and put on a show as they open and contort themselves.
Chocolate. Thats right… the darker the better!  I have heard that it falls into a "its good for you" category so never mind the guilt…  I go straight to the veins with a steaming cup of dark instant with milk or half and half added to the top 1/3rd.  Makes me feel like I made it from semi scratch.  Of course, you can always suss out the best bar of it in the can aisle right after you get your healthy vegetables – REWARD!
When all else fails, you can always go to a SPA